I want to bring the mindset of a cowgirl and world champion barrel racer into your thoughts today. What is your approach to the turns that lie ahead, what are the objects you are concentrating on, what spirit and energy are you channeling?

It is time to create some confidence with anything you are doing in life.

An understanding of what a true barrel racing Texas cowgirl is.

Up at sunrise, hard work, and integrity, a sense of morals, values, and discipline, an understanding and quest for a detached and decentralized mindset.

To be a cowgirl you have to be very close to the horse that you ride. It is a relationship that usually starts young in a horse's life and if possible in a cowgirl's life. It is a relationship that goes unspoken and is not understood in the normal world.

To be a Texas cowgirl you have to be able to deal with heartbreak and you have to carry yourself with a sense of integrity, wisdom, and a humble dose of agency and destiny.

You know that you are probably smarter than anyone in the room but you have to carry a tone of grace and respect. You can not be insecure and you let the prior work you have done speak to the challenges you are faced with each week.

A Texas cowgirl usually lives in the country or has some land in which to practice and develop her skill.

One such Texas cowgirl is Hailey Kinsel.Here is a quick introductory video you can reference.



Personal biography - Pro Rodeo PRCA

Parents Dan and Leslie, brother Matt. Grew up on her family's commercial beef cattle ranch in South Texas. Was a gymnast until age 11 and she decided to follow the rodeo world instead of the Olympic route...Her mother Leslie is a former Miss Rodeo Texas and enjoys starting colts, a passion that stemmed from working for horse trainers and something she now shares with Hailey...Is also a roper and competed at the 2017 WPRA World Finals..Competed on the Texas A&M University rodeo team...Purchased Sister from a sale in her 2-year old year and Hailey and her mom trained her...Kinsel's WPRA season changed in July 2017 when she won $50,000 at the Days of '47 Cowboy Games and Rodeo and set her on the path to the Wrangler NFR. She also won a share of $1 million when she won the barrel racing title at RFD-TVs the American in Dallas in February, 2017 and was second in 2018. Only contestant to win three Gold Medals at the Days of '47 Cowboy Games & Rodeo in July in Salt Lake City....First WPRA member to win the world title, NFR average title, RAM Top Gun award and fast time award all in the same year (2020).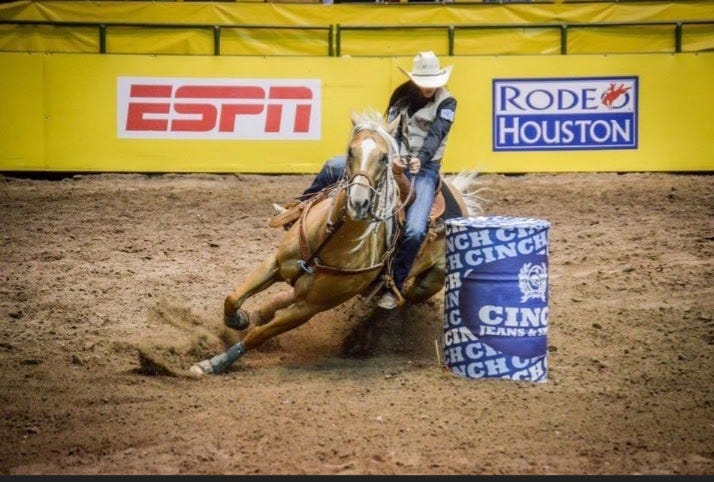 The focus required to be a professional barrel racer is amazing. As the horse and rider approach a turn they have to be focused on many things at once. The rider is using her feet, arms, and weight to guide the horse. The horse is responding in real-time to the rider's commands. The rider is looking for her spot to mark the turn, the horse is doing the same. They are in a full sprint and also in a stop and explode mode. This teamwork has taken countless hours of work and training. The rider training the horse, the horse training the rider. Each has a different personality that they have to get used to. They have to develop mutual respect. Sometimes these relationships never take hold, sometimes they light a fire the first second they gaze into the eyes of each other. 

Take a second to view this quick clip of the teamwork in action

To achieve these types of achievements and successes I say this.



Be Cowgirl proud

Be Cowgirl respectful

Be Cowgirl confident

Be Cowgirl brave

Be Cowgirl kind

Be Cowgirl

Be You!

How does a young girl get to where she can be all of the above? Well, here in Texas and most of the United States it starts with family and a decentralized mindset that is community-based.

For Hailey, it started on a ranch outside of a small Texas down.

"You can trace Hailey Kinsel Lockwood's roots to a ranch in Cotulla, TX. Her parents, Dan and Leslie Kinsel run a commercial beef operation. They likely inspired Hailey's interest in rodeo and riding horses. This professional barrel racer has had a few good horses in her time, including Thunder Stones 'TJ' and Sister. With the help of her equestrian mom, she has trained most of the horses right on the ranch. You can tour the farm she grew up on and learn more about her training philosophy in this Racer's Edge documentary and in Life In The Fast Lane With Hailey Kinsel."

Visit The Home of Hailey Kinsel Lockwood

I do not know Hailey or the Kinsel family. After I was on a podcast with Daniel of the OnceBITten Podcast I started thinking about my Texas heritage and growing up with many like-minded girls like Hailey. I remembered her achievements and began to dive deeper into their family.

As I researched I noticed that it all started on a small Texas cattle ranch as I listed above. Once I discovered the family history and how she was raised a light went off in my head. I had a thought. We need more Cowgirls in the Bitcoin space and we need more Bitcoin in the Cowgirl space. Why? Because the values and ideology of both intertwine and are destined to merge at some point in the future. The Bitcoin network is built on trust not only embedded in the protocol but in the relationship of everyone we meet.

Kinsel Cattle Company and Hunting Destination

Kinsel Cattle Company, located 10 miles outside Cotulla, Texas, 90 miles south of San Antonio. They are located in the South Texas Golden Triangle, the ranch consists of 5,000+ acres of rolling hills with mesquite trees, blackbrush, and cactus. The Kinsel family enjoys a long history of cattle ranching and game management. 

The Golden Triangle in southwest Texas where some historic figures like Texas Rangers harvested big whitetail deer to feed "Texians" in the day.

More information here

To Be Cowgirl Tough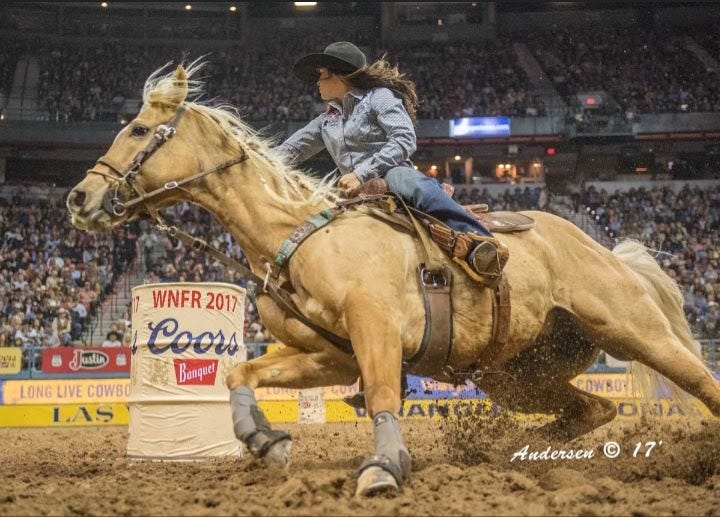 It's really not that hard to understand. You have to hit it every day and you have to be ready to go toe to toe with the world. A family like the Kinsel's are always juggling many aspects of daily life from ranch and land management, raising cattle and horses to booking game management hunts. Their part of Texas is some of the best hunting you can find in the nation and in the state of Texas.

We need to reflect on the traditional family, especially now that it has been systematically dissected by our society and the social engineering that has taken place and is currently ready to ramp up even more. 

Our families are under attack and if you do not see this or understand why and how please point your compass more in this direction of awareness and adoption of lifestyles and decentralized thinking. My goal, aim, and mission moving forward is to paint a picture of days gone by, both good and bad, and apply some new brushstrokes that are romantic, poetic, and lead to a new renaissance of spirit and action.

Personally, I have known a lot of cowgirls, in my professional life and in my social surroundings. If I were to be asked who I could lean on, it would be one of those cowgirls I have had the honor of knowing and sharing laughs and experiences with.

They are a different breed, the difference is because of the "Source of the Seed" of their purpose. To be a cowgirl usually requires a horse, to have a horse you have to have commitment, to have commitment you have to have discipline, to have discipline you have to have drive, to have drive you have to have a goal, to have a goal you have to create a destination, to create a destination is to have already won the race. To win any race cowgirls need to talk to her 7yr old self. To guide a cowgirl a parent needs to mentor and provide to the 7yr old spirit and child.

Merging our Lifestyles

Not every girl can or will be a Texas Cowgirl and not every boy will be a Texas Cowboy. Heck, I am more of a Texas Hippie Punk Cowboy more than anything. I would never disrespect my friends and men I know and have known to say that I am as much cowboy as they are. One thing I am is tough and I have grit. I say this with humility and I say it with confidence.

I am bringing this to the fight. I am counterpunching a corrupt society and a corrupt global food industry with this mindset and with the receipts, I have in life.

A Texas Cowgirl does this every day as well.

It is time for me to merge the cowboy/cowgirl lifestyle together. If you know anything about ranchers -they do not have to be Texas cattle ranchers - you know they are a very stubborn lot. 






They have to be, they have to be protective and they demand respect and do not put up with lies. Their industry from day one has been wrought with deception and corruption. From early cattle rustling to modern-day beef industry manipulation. They have to be tough and they have to be decentralized in their mind, even tho they have to rely on a centralized industry to survive.

I want to change this. This is the main reason I wanted to create the Texas Beef Initiative. I wanted to bring the Texas cattle industry into the decentralized thought of Bitcoin and combine the power of pure animal protein and the store of value of the Bitcoin protocol. We are early but I see a roadmap and I see a monumental amount of opportunity to leverage Texas heritage and tradition of cattle ranching and feeding our nation and the power of decentralization that is being presented to us. At this time we have already established a partnership with the Texas Beef Initiative the Oshi App and have onboarded the first Texas cattle ranch and professional team roper - K&C Cattle Company out of Austin, Texas.

By creating this three-way partnership we are bringing new decentralized value and power to the cattle industry, and to the TBI. The Oshi app is frontrunning the decentralized transaction process, plus including an incentive-based opportunity for both the consumer and the provider.






To be a professional barrel racing cowgirl requires sponsorship. It requires a lot of capital to participate in the rodeo circuit. It takes money to raise horses and maintain the land and sources of food and nutrition. As I said before it takes land management and like the Kinsel family ranch, it requires cattle and wildlife management.

I was having a conversation with a new team member yesterday. I will be announcing her next week prior to the official launch of the Texas Beef Initiative platform. (Announcements to come next Sunday)

We had a quick conversation about how much someone like Hailey could leverage the Bitcoin protocol. The amount of sponsorship that is needed in the professional and rodeo circuit. How we need to all need to get our boots on the ground and begin to educate the professional cowgirls out there and how they can help educate bitcoiners with a lifestyle and mindset that goes unmatched.

These were the notes I wrote down when I had the idea for this article.

Cowgirls, family, Texas heritage and tradition, and a decentralized mindset which is required to have the means and strength to do all of the above in our captured and ever-growing centralized society.

I can not express enough the amount of work we have ahead of us. The amount of communication that is going to be required to create the awareness and the adoption that all of our cultures need, to first understand and then have the confidence to move forward with. 

We can not do this from our smartphones or from our laptops. We have to go out and we have to start meeting people.

We have to create a new international lifestyle that starts at home. It is time to step out of your comfort zone. It is time to make weekend plans before Friday night. It is time to adopt a low-time preference, a high-value mindset that allows your kids to dream just like Hailey was allowed to dream. Every girl and boy in Texas and across the nation and world for that matter deserve to understand that they can be a cowgirl or a cowboy in spirit and in their heart and if they have the drive and confidence to become one in real life.

I use to tell my cowboy friends and my punk rock friends that cowboys and punk rockers were of the same mindset. They didn't trust anything that was centralized, they steered away from governmental control and were for the most part tough as nails in many aspects. They are both very creative and have a sense of poetry in their lifestyles - all be it appearing very different on the surface - they live a similar life. I believe that is why I was always able to get along with basically any crowd, I was able to have a different "angle of a view" that was separate from the one society tries to indoctrinate all of us with.

Easy Street Requires Mud on the Tires

For me, I am bringing this spirit to everyone I know, I am hitting the road tomorrow morning at 3am. I will be heading back to Austin and I will be picking up my son from school. He loves to come back to the Llano Estacado. We will drive over 2000 miles together this coming week. We will be hitting some dirt roads searching for land, different angles of his city view. We will be bringing some Texas heritage and tradition into his young mindset. His dad can talk and his dad can tell a story. I am going to explain what the spirit of a Texas Cowgirl is and what it truly means. Then I will beg him to choose wisely as he searches for the love of his life.

We have a responsibility to get some mud on our tires. This is symbolic of getting dirty and going down roads untraveled and unseen by most of the population. I myself will not miss a turn and will never accept any dead-ends. Too many miles to put behind me, I will be tired but wiser for the time.

Weekly Highlights

I wanted to provide a quick summary of the Book that I presented last week. 

Their journey and story below:

Bitcoin for Kiddos -   Frieda and Chris Bobay








Our kids are the future. "Bitcoin for Kiddos" was born out of a lack of educational material for children around this digital asset.

We wanted to start a fun and engaging dialog with our kids on the subject of money and where Bitcoin fits in. The world is constantly changing around us and the money is changing too.

As everything becomes more digitized we as parents must do our best to keep up and continue our education. We believe that Bitcoin is a monetary system that provides an even playing field and will give our children the best chance at a bright future.

The Bitcoin for Kiddos book idea was in our heads for about two years prior to its creation. We knew we wanted to educate our kids but we did not have any image or text ideas at the time.

Ultimately Frieda sat down one night and said: "Chris, if you can write the story I'll draw the pictures and your kids will get to enjoy it." The rest is history.

Over several weeks we created a story that gives a historical account of Bitcoin's growth and adoption since its beginning. We believe that orange pilling the next generation is crucial to our society and being able to live in freedom.

Best Bitcoin beginner book for kids and adults of all ages. Makes a great bedtime story, coffee table book or bathroom read. Guaranteed to start conversations between friends and family.

The Bitcoin rabbit hole is long and full of new concepts to explore. Thank you for letting us be part of your journey.

Order our book at: www.bitcoinforkiddos.com

Promo code for 15% off your entire order: Tman15

@bitcoinforkidd1






Texas Slim's Vison

If you haven't checked out my new podcast series Texas Slim's Vision - please take a listen to this latest release. I interview Justin Trammel of Tir Bluen. Justin is my local animal producer and supplier. He is pioneering a new system of microprocessors in the state of Texas. Our conversations are going to be an ongoing series that will cover everything that the Texas Beef Initiative is. Tons of education, history, and steps you can take to create your new decentralized lifestyle.

Decentralizing our food supply and understanding the history of farming and ranching.